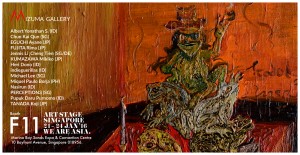 Art Stage Singapore 2016
21 – 24 JANUARY 2016
Marina Bay Sands Expo and Convention Centre
Booth F11
Mizuma Gallery is taking part in the upcoming Art Stage Singapore 2016, from 21 to 24 January 2016. Visit our gallery at booth F11.
Presenting artworks by:
ALBERT YONATHAN SETYAWAN (ID)
CHUN KAI QUN (SG)

EGUCHI AYANE (JP)
FUJITA RIMA (JP)
JENNIS LI CHENG TIEN (SG/DE)
KUMAZAWA MIKIKO (JP)
HERI DONO (ID)
INDIEGUERILLAS (ID)
MICHAEL LEE (SG)
MIGUEL PAULO BORJA (PH)
NASIRUN (ID)
PERCEPTION3 (SG)
PUPUK DARU PURNOMO (ID)
TANADA KOJI (JP)
Visitors Information
Venue:
Marina Bay Sands
Sands Expo & Convention Centre, Level B2. Halls D, E, F
10 Bayfront Avenue, Singapore 018956
Ticketing:
Standard Ticket (1-Day): $32
Season Ticket (4-Day): $64
Concession (1-Day): $20
Concession Group Tickets (1-Day): $15
Non-Concession Group Tickets (1-Day): $25
Art Stage Singapore Ticketing Box Office will open 1 hour before fair opening and close half an hour before last admission.
Fair Opening Hours:
The VIP Preview & Vernissage will be held on 20 January 2016.
Only guests with a VIP card, VIP Daily, or Vernissage invitation will be allowed admission.
For more information about the VIP Programme, please visit www.artstagesingapore.com/vip
Public Fair Opening Hours:
21 Jan 2016 (Thu) : 12pm-8pm
22 Jan 2016 (Fri) : 12pm-7pm
23 Jan 2016 (Sat) : 11am-7pm
24 Jan 2016 (Sun) : 11am-6pm
(Last admission is one hour before the Fair ends)