Sueo MIZUMA, Director
MIZUMA Sueo was born in Tokyo. He graduated from the Department of Arts and Literature at Seijo University.
MIZUMA began his art career in Aoyama with MORPHE, an arts event which aimed to stimulate Aoyama area and the art scene there.
During the 1990`s, MIZUMA was engaged in both curating and producing various art exhibitions as well as acting as the Judge of the "Art Battle" in "Takeshi no Dare Demo Picasso" for several years.
In 1994, MIZUMA established the Mizuma Art Gallery in Aoyama and continues to discover, support and introduce young Japanese and Asian Artists to the international art scene.
He supports artists whose works offer a critique of contemporary consumer society.
MIZUMA is dedicated to the further development and expansion of the Japanese art market.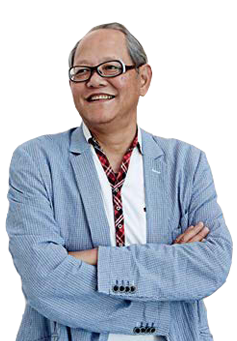 Mizuma Gallery was established in 1994 in Tokyo by director Sueo Mizuma, and since its opening in Gillman Barracks, Singapore in 2012, it aims for the promotion of Japanese artists in the region as well as the introduction of new and promising young talents from South East Asia to the international art scene. The gallery creates a new vector of dialogue within Asia, by exchanging art projects between East Asia and South East Asia. Mizuma Gallery has featured the works of Japanese artists including Aida Makoto, Amano Yoshitaka, Tenmyouya Hisashi, Ikeda Manabu, Aiko Miyanaga, and Yamaguchi Akira. Moreover, it has showcased the work of renown East Asian artists such as Ken + Julia Yonetani, Jun Nguyen-Hatsushiba, Ai Weiwei, and Du Kun. The gallery also organises exhibitions featuring Indonesia's forerunner artists including Heri Dono, Nasirun, Made Wianta, indieguerillas, Albert Yonathan Setyawan, Agung Prabowo, and Angki Purbandono. Mizuma Gallery also participates yearly in Art Stage Singapore, and Art Basel Hong Kong.
22 Lock Road #01-34
Gillman Barracks
Singapore 108939
TUE-SAT 11AM-7PM
SUN 11am-6pm
T. +65 6570 2505
F. +65 6570 2506