Solo exhibition by Iwan Effendi (ID) 
8 June – 7 July 2019
Opening Reception: Saturday, 8 June, 4pm – 7pm, with a performance by Iwan Effendi and Ria Tri Sulistyani

Mizuma Gallery is pleased to announce Face to Face, a solo exhibition by Indonesian artist, Iwan Effendi.
As the Co-Founder and Co-Artistic Director of Yogyakarta's Papermoon Puppet Theatre, Iwan Effendi is also a visual artist himself, bringing puppetry characters to life with their individual narratives and emotions. Face to Face will be the artist's second solo exhibition in Singapore, and will feature a series of new drawings and puppet sculptures.

Visitors will be welcomed into the exhibition space with many the faces that spread across the space, appearing in an almost unemotional and reserved state. They look to be waiting upon its puppeteer or viewer to endow their empty shells with layers of thought, speech, and emotions. The myriad of imaginative possibilities gives room for his characters to project and express their narratives to its viewers.

The exhibition opens with a performance by Iwan Effendi and Ria Tri Sulistyani on Saturday, 8th June 2019. For one night only, audience members are invited to witness these master puppeteers take to stage with their puppet characters, breathing life into their still bodies to explore the many possibilities of communicating and interacting with the audience and the gallery space. 
About the Artist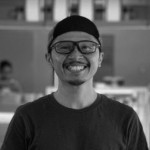 Iwan Effendi (b. 1979, Indonesia) studied at the Department of Visual Art in Indonesia Institute of the Arts, Yogyakarta, Indonesia in 2004. Iwan and his wife, Ria Tri Sulistyani, founded the Papermoon Puppet Theatre in April 2006. His solo exhibition's to date include Lunang at Lir Space, Yogyakarta, Indonesia (2013); Eye of the Messenger at Yavuz Gallery, Singapore (2011); and Two Shoes for Dancing at Valentine Willie Fine Art (Project Room), Kuala Lumpur, Malaysia (2009). He has also participated in group exhibitions in Bulgaria, Singapore, Australia, The Netherlands, Philippines, France, Japan, United States, and Mexico. He has undertaken residencies with the Museum of Art in Kōchi, Japan (2015); Federation Square, Melbourne, Australia (2014); and a six-month long residency with Asian Cultural Council in New York, USA (2009-10) researching on puppetry, visual, and performance arts. Iwan Effendi lives and works in Yogyakarta, Indonesia.